Best 1911 for the Money [2022]
Thanks to John Moses Browning, his iconic 1911 pistol has been giving us pleasure and serving us for over 100 years and still going strong. Modern day 1911 has new features and more calibers which opens this pistol up to even more shooters.
This is not the complete list but a good starter to get a glimpse at some of the best 1911 pistols currently out in the market for the gun community, competitive shooters and the few serving law enforcement.
Kimber's Micro Carry Stainless

Kimber Quality in a Pocket-Size .380 ACP Package. The Micro Carry in .380 ACP offers the proven 1911 design in a pocket-carry size for the smaller cartridge. MSRP $679
Springfield Armory Mil-Spec

The Stainless Steel Mil-Spec is built on a full-size frame and slide. Proper alignment slow and easy squeeze and you will nail your target every time. MSRP $729
Remington's 1911 R1 Stainless

All the features of the 1911 R1, but with the enhanced durability and visual appeal of a stainless steel finish. MSRP is $789
Springfield Armory EMP 4 Lightweight Champion (9mm)

The EMP® came out a smaller, more comfortable, and more concealable package optimized for the smaller 9MM and .40SW calibers. Accuracy out of the 4″ commander size barrel groups well at distances out to 15 yards, even when rapidly fired. MSRP $950
Colt Delta Elite (10mm)

The Colt Delta Elite is a modified M1911 pistol, Series 80 configuration, chambered for the 10mm Auto. If you need to watch out for those 4 legged animals that are a threat. Then have a look at this 1911. MSRP $1100
Ithaca's 1911 Pistol

Everything about the Ithaca feels tight, solid and smooth, and the result of all that hand work is a pistol that shoots extremely well and runs flawlessly. MSRP $2,000
Taurus's 1911 .45 ACP Pistol

The Taurus 1911 .45 ACP Pistol features semiautomatic single action and a 5″ barrel with a blue steel finish. MSRP $835
Sig Sauer's 1911 Ultra Two-Tone

This Sig Sauer is a solid, big-bore .45 ACP pistol and has the shortest overall length of any SIG SAUER 1911, making it an ideal carry pistol. MSRP $1,156
Dan Wesson's DW Razorback 10mm 1911

Back by popular demand, the razorback 10mm is a powerhouse perfect taking down game from up close. MSRP $1,350
Colt Gold Cup

The Colt Gold Cup is known as the finest shooting semi-automatic in the world, and is the standard for competitive guns. MSRP $1400
Sig Sauer STX

This Sig is a good one for duty carry. The 1911 STX from the SIG SAUER Custom Shop is a two-tone 1911 that's loaded with features.
STI Trojan (9mm)

If you're into competition then this 1911 is the one most are using. MSRP $1500
Wilson Combat CQB Tactical LE

This CQB is a specialized version for SWAT entry teams. If you have the cash and want one of the best 1911 around this is it. MSRP $3100
Kimber Amethyst Ultra II

If you want a 1911 but as a subcompact, this Kimber has a 3″ barrel chambered in 9mm or .45 ACP that is primarily geared to women or maybe you're thinking a pocket gun. (may be too big as a pocket gun for some) MSRP $1400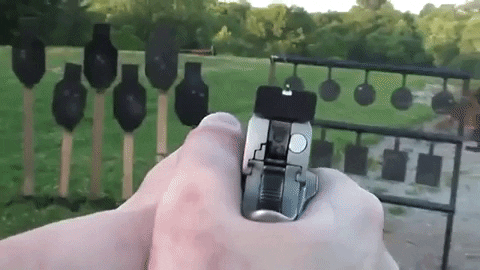 Last Aim
The 1911 pistol is a beautiful handgun with a rich history that expands over 100 years. Sales have been consistent year after year. Every year there is always a new 1911 coming into the market for us to have a look.
If you are late to this game, then be sure to borrow one and pounce some lead downrange. You won't regret it.
People that Ask about 1911
What size 1911 is best?
The Springfield 1911 Enhanced Micro Pistol (EMP) is built to be the answer for anyone who thinks a full-size 1911 is too big and the compact size of the 911 is too small. The EMP is incredibly light (1.9 lbs) and features a shortened length to 7.5″ overall.
Is Springfield Armory 1911 any good?
The Springfield Armory Stainless Steel Mil-Spec 1911 is for a particular sort of shooter. At 39 oz, the gun is heavier than a polymer-framed micro-carry pistol like the Hellcat, to be sure. However, what you get for that mass is proper recoil management and a serious sensation of power under control.
Why 1911 is the best pistol?
The M1911 series of pistols is renowned for its ergonomics. The svelte grip provided by the single stack magazine makes it easy to grip. The manual safety is placed perfectly for easy access, and the grip angle is superb. The single-action-only design provides a crisp trigger in even the cheapest 1911 configurations.
What is the difference between a 2011 and 1911?
What is a 2011? The 2011 is a modular framed 1911 that is light and has better recoil management. Typically the 2011 is known to be smoother and better to shoot than a typically 1911 pistol. 2011 typically allows you to change the whole grip whereas the 1911 only allows you to change the grip panels.
What pistol does Delta Force use?
For years, the US Army's legendary special missions unit 1st SFOD-D (aka Delta Force) has made considerable use of the just-as-legendary M1911 pistol, chambered for the . 45ACP round. The 1911 was not only known for its versatility and stopping power, it was also a huge favorite of Delta Force's founder, Col.
What 1911 does the FBI use?
Springfield FBI HRT Semi-Automatic. 45ACP 1911 features a 5″ barrel, Teflon finish, Wood grips, 7Rd Mags w/Rail, Fired Case, Ambidextrous safety and Tritium Night Sights.
Looking to get some Ammo, have a look below.