22 Mag Pistol – Loads of Fun!
If you're into plinking and a Kel-Tec fan, you should have a look at the Kel-Tec PMR-30. Not a new gun, its been around since 2010, but its an ideal pistol for hiking, camping or just toss it into your tackle box.



This gun is a .22 caliber and most are usually in a revolver type.
Kel-Tec PMR-30 is a full-size semi-auto pistol chambered in .22 WMR. Full-size is the term that the gun industry coined.




Light Weight
The PMR-30 has a slender slide and a lightweight polymer frame that means unloaded it only weighs 13.6 ounces.
Fully loaded this pistol tips the scale at 19.8 ounces.
Magazine Hi-Capacity
The magazine is double-stack which holds 30 rounds of .22 WMR.
Though mentioned the pistol is slender, the magazine itself may be a little wide for the average male/female hand. Not a big issue, just something to note.



Sights
Another great feature is their highly visible sights with fiber-optic inserts.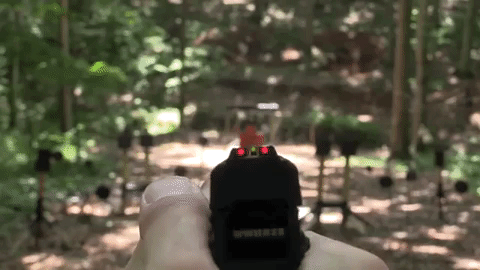 They form two red dots that frame the rear notch and a green dot on the front post. The rear sight is molded into the slide, but the front sight is dovetailed to allow for windage adjustments or replacement.
This sight is fantastic for quick target acquisition
Safety
Ambidextrous thumb safety to accomodates southpaws mutants with a 1911 flair.
Trigger
Features a single-action trigger pull at around 4 pounds, which is short and light. This is well suited for target shooting and plinking.
Good triggers also contributes to good accuracy.



Mag Release
This PMR-30 magazine-release button is European style which is heel-type release. The heel release uses a push button and is easy to use.
The logic behind this position is that this reduces the likelihood of an accidental release when the gun is bumped around during carry.
The downside is that it may not be suitable for a speedy reload.
Accuracy
Being a .22 caliber it is accurate but with a little more recoil in a magnum. Which isn't hard to manage. Excellent for quick target acquisition. Some shooters do complain of improper stabilization due to the loads. Kel-Tec did change the rifling from a 1:16 inch twist to the more stable 1:11 inch rate of twist.
Last Shot
The PMR-30 pistol obviously fits the fun gun category.
But will it fit the personal defense model? The caliber isn't as powerful as the .45ACP or .40 cal for stopping power.
With the magnum rounds in a full size pistol within the context of personal defense putting multiple .22 magnum rounds to the right place can help. At this point with this many rounds in the mag, you can't argue not having enough ammo in a gunfight. Many gun experts will state that the PMR-30 is not conducive as a defensive gun, only as a last-ditch scenario gun like the pocket pistols. What do you all think?
Here's Youtuber Hickok45 taking this Kel-Tec PMR-30 for a run.
Here's another look from the folks from Combat Tactics running this.