Have you seen this gun?
You may have seen this floating somewhere out in the wild internet. The gunsmith guru is none other than TJ of TJ Custom Gun Works. If you're not familiar with TJ, you may have come across some of his ads and articles from the past in Combat Handguns, Soldier of Fortune, Guns & Weapons for Law Enforcement, Custom Combat Handguns, etc. plus a couple gun books sold through Paladin Press.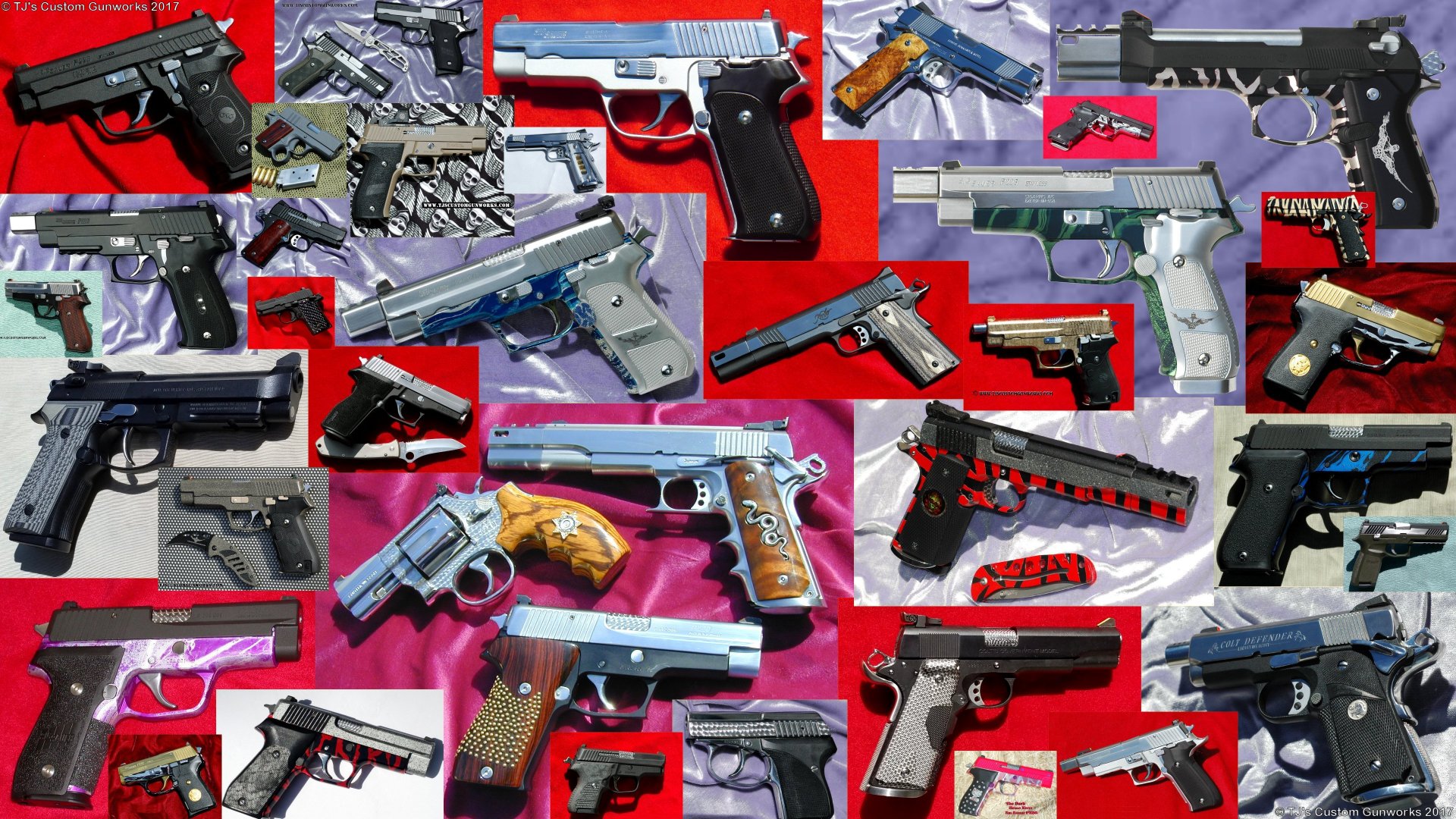 TJ has been gunsmithing since 1982 and in 1986 Combat Handguns saw what TJ can do with guns, well as they say the rest is history.
Like most gunsmiths, TJ started in pistolsmithing on Colt 1911's and S&W revolvers and rifles.
He eventually went on to doing re-work and new exotic modifications. For example TJ worked on the Browning BDA .45. Afterwards the Browning BDA was renamed and dubbed the Sig Sauer P220.
It didn't take long for local local police department to switch over the the Sig Sauer P220 and spread quickly all over the U.S. Many Sig work kept flowing in. These officers knew that reliablity is something that will save their lives and its what TJ offered with his wizardry gunsmithing skills.
TJ has done custom work for every walk of life that you can imagine. Doctors, lawyers, actors, police, FBI, Secret Service, ministers, bikers and bodyguards.
TJ also works on other guns besides the Sig Sauer such as re-working the Beretta's, Colt's (and copies of course), S&W's (both auto & revolver), Taurus, Astra, Star, AMT, KelTec, Charter Arms, Desert Eagle, Browning, Ruger and Rossi.
If you're still unsure of what TJ customizes, here's an excerpt from my conversation with him:
AmSJ: What types of customization do you do?
TJ: I mainly only do handgun work these days. Some repairs & reliability issues, and some custom work. My true specialty is the internal action & trigger work, the improvement of the function & reliability. Unfortunately, no one cares to see photos of the polished internal parts, people want to see the pretty finish's & compensators (I really hate doing comps, but I have been making them since the mid 1980's). Recently I have been converting several Beretta 92 pistols from SA/DA to SAO (Single Action Only), fabricating parts for other guns that parts can not be obtained for, and then standard work like Sig Sauer overhauls & customization (Also 1911, CZ75, Beretta, S&W revolvers, and many others in the past weeks).
AmSJ:The custom work that you do, is it for design/aesthetically for looks? or, is it performance based? Like for some that are into competition shooting or maybe for personal defense.
TJ: My old magazine ads used to have one line of text aside from my contact info, and that was "Duty Actions to Full Exotics", I think that says it all. I prefer doing the actual internal gun work, and I do it better then anyone else (yes, really), rather then the aesthetics that anyone can do. I am very happy to do a $200 job, but I am also happy to do a nice $5000+ full custom competition pistol as well. I just want my customers to be happy, and come back again and again years later for more work, THAT is the core of my working principals.
AmSJ:Are they mostly experienced shooters, plinkers or gun collectors that ask for your expertise?
TJ: I would say more are experienced people, guys that want something better then stock, and better then the mis-represented "factory custom" guns.
I have been gunsmithing and inventing for 35+ years now, I have made several inventions for guns, some have been copied, many have not. I like doing stuff no one else does, it is more fun. Look at my old gun photos and you'll see more fun stuff when I have more free time, like the "gun from hell".
Here are what his customers are saying about TJ's work:
"TJ took my Colt Commander and turned it into machine art. It's one of the finest firearms I have ever seen. And that's inside and outside. TJ is a proud craftsman and a stickler for getting every last thing just right. Unbelievable his attention to detail. My Commander is one of a kind, an heirloom and a shooter, thanks to him. ~ Martin Hildreth"
"I had a basic action job, but a few tweaks and courtesies during the process enhanced the whole experience. In the end the work is clean, polished and professional, I'm shooting better, and I value both the tool and my experience all the more because of the high standard of work. There's nothing else to know, nothing else matters. – Roger A. Cope"
"I am writing to say thank you for the amazing work you did on my Sig P239 and say that I endorse your work 100%. I had the level 3 package plus jewling the barrel. After receiving my firearm and emailing a bit TJ threw in jewling the extractor as well because he thought it would look nice. He also polished the barrel tip and guide rod tip. After taking the gun out to the range is shoots as nice as it looks. I am very happy and completely satisfied with the workmanship and quality of the finished product. I would recommend TJ to any gun owner I know and will use him again. – Dustin Marks"
If you want to get in touch with TJ Custom Gun Works for any gun works, you can email TJ at pistolmaster@gmail.com Obviously, you can check out TJ's website at TJCustomGunWorks.com.