Springfield Armory Hellcat Review
Move Over Sig P365 for a New Micro-Gun
Most CCW full size 9mm pistols carries 15 + 1 in the pipe, which has become the norm. Springfield Armory has come out with the Hellcat pistol. This pistol is considered to be the smallest compact with the highest capacity ever.
With 11+1 in the chamber, this CCW pistol is not just a rinky dink pocket gun. Hellcat also comes in 13+1 extended magazine as well.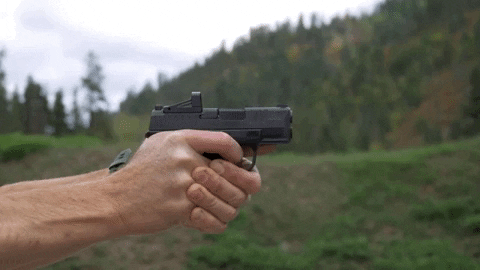 Springfield Hellcat Sights


Another thing that you'll see on this great piece of micro-compact 9mm, is that the slide is cut for 2 micro red-dot. The 4 MOA Red dot aligsn with the iron sights. The rear sight sports a deep "U" notch which makes sight alignment easy. The front sight has a high visibility tritium lamp with yellow/green ring for quick acquisition during day and limited lighting.


Ergonomics
One of the first thing about shooting pocket size guns is that its usually not comfortable. Shots are usually snappy, with the gun wanting to jump out the hand.
With the Springfield Hellcat ergonomic design, the shooting is comfortable according to those that have test fire. Springfield design the polymer frame with a high beavertail that protects the shooter's hand and negates the muzzle flip. Springfield grip technology has whats called "adaptive grip texture", fancy words for secure firing grip at the index points on both sides of the frame. With a wide grip backstrap (wide as the gun) this spreads the recoil over a broader area.
Test Run
With a three inch barrel and short sight radius, shooters took this out to 15 yard for accuracy shooting. Nothing fancy or stress test shooting just boring shooting/plinking at the paper target. For an average shooter with 5 shots, you should be able to get .70 to .80 inch group.
There are many good 9mm ammo to choose from, here are some good ones:
| Ammunition | Velocity | Energy | Group |
| --- | --- | --- | --- |
| DOUBLETAP 77-GRAIN SOLID COPPER HOLLOW POINT | 1412 | 341 | .70" |
| HORNADY +P AMERICAN GUNNER 124-GRAIN XTP HOLLOW POINT | 1093 | 329 | .75" |
| COLT DEFENSE 124-GRAIN JHP | 1140 | 358 | .82" |
This is not the complete list, just the ones that have gone thru the Hellcat pistol. Notice the +P for Hornady round? The Hellcat was rated for use with these loads. If you're not familiar with +P, it is simply a cartridge that has been loaded with a higher amount of gun powder. … Essentially, if you have a gun that takes 9mm ammo, you can increase your velocity and power with 9mm.
Many EDC junkies looking for a micro-pistol, (pocket gun) with high capacity, reliability and accurate. This may be your thing, or if you're looking for an extra carry to your primary pistol, this is it. The down size may be the MSRP $600 but for those that can afford another toy, its there for all.
Springfield Hellcat Specs
Model: Hellcat OSP
Caliber: 9mm
Capacity: 11+1 (flush fit); 13+1 (extended)
Barrel Length: 3 inches
Overall Length: 6 inches
Height: 4 inches (flush fit); 4.5 inches (extended)
Grip Width: 1 inch
Weight: 17.9 ounces (flush fit); 18.3 inches (extended)
Front Sights: Tritium Luminescent
Rear Sights: Tactical Rack "U" Notch
Frame: Black Polymer, Adaptive Grip Texture
MSRP: $599 (Tested OSP Model); $569 (Standard Model)
Here's Hickok45 taking the Hellcat for a run.
If you want to see how this fared against the Sig P365 see it here –
Sig P365 vs Hellcat
.
Looking to get some Ammo, have a look below.