Best Shooting Gloves [2018 Hands-On Test]
Need some protection for your hands from weekend shooting to busting down doors?
We bought a bunch of the most popular tactical shooting gloves out there and tested them with competitions, range trips, and even a house move or two.
While emphasis will be on what's important to civilian shooters (price, fit, touch-screen capability, durability etc.), we also cover some tactical aspects as well.
By the end you'll know the best glove for your end use.  Here's a sneak peek of our results:
No Glove No Love
Why gloves?  Let me list a couple of reasons:
Things get HOT: Guns themselves in hot weather, barrels when you shoot a lot, and suppressors
Things get COLD: Sometimes you're shooting cold weather and you would prefer to feel your fingers
Prevent hand damage: Cuts and scrapes might be

meh

for most shooters, but they still suck and if you're out in the field…infections can become killer.
Fit
The most important thing to me…if you have the best glove out there and it fits like a grocery bag or a kid's mitten…it's not going to work out.
Here's measurements of my hand so you can compare when I go over the sizing.  Overall I have skinny wrists, not that much of a palm swell, and long fingers.
Now let's get to it…
4. Mechanix Fastfit Gloves
I've had a couple Mechanix original gloves for shop work but the few times I took them to the range I felt their fingers were a little too bulky for some firearm tasks.
Enter…their newish Fastfit Gloves.
I wore mediums and using their sizing chart I re-confirmed I was indeed medium.
Here's some other useful stats:
$14
Synthetic leather and spandex
Touch-screen enabled
Fast-drying
Elastic cuff
For me they didn't fit quite right because of my palm size.  You can see there's a lot of gap in there.
And the cut between the index finger and thumb is a little restricting for handgun shooting.  Rifles are fine.
Also very thin so great for dexterity but not very warm or heat resistant if that's your thing.
But for $14 and pretty good durability from what I've seen from friends…you can't go wrong for a first pair of shooting gloves.  Especially if you have slightly meatier hands.
3. Magpul Technical Gloves
My main recommendation for affordable shooting gloves are Magpul Technical Gloves.
I went with medium and they fit a lot more snugly one me…especially at the cuff.  The Mechanix ones were just too loose and flared for my tastes.  However…with the smaller cuff you're going to have a lot harder time taking these off.
Some stats:
$20
Synthetic suede palm
Elastic wrist closure
Touch-screen enabled
You can see it fits a lot better and the cut of the thumb and index finger is much more conducive for shooting.  There's also extra material on three fingers that enables touch-screen access.
At first I thought it would disrupt precision shooting but it's at the tip of the finger enough that I had no problems.
Thicker material than the Mechanix and what I think is a good Goldilocks zone of dexterity and protection.  Also some terrycloth material on the back of the thumb for sniffles or cleaning optics.  Awesome for $20.
2. SKD Tactical PIG FDT Delta Gloves
The FDT stands for full dexterity tactical and they live up to their name.  The Delta Glove version is the thinnest version.
If you want full dexterity at the expense of some protection…these are the best on the market.
I'm a large for SKD gloves and I fit very snugly even though I sized up.
No complaints in the finger or palm swell area.
But note that the words "PIG" are rubberized textures that work well but will eventually fall off.  However the tips of the gloves are still touch-screen enabled.
Some more stats:
$30
Single layer palm
Elastic cuff
Touch-screen enabled index/thumb
They look great too and you can see how thin they are even in the back.  If you need knuckle protection look elsewhere.  The design is cool but I have a feeling it's going to start peeling when I wear it more.
A little more at $30 but currently my favorite when dexterity is the primary focus.
1. SKD Tactical PIG FDT Alpha Gloves
My current favorite shooting glove…the Alpha version of the PIG FDTs.
The thicker OG version…I think this glove checks all the boxes.  Still super dexterous while having some additional protection…all the while fitting like…a glove.
I went with large on this like the Delta version.
I've used these gloves the most and they shoot pistols, ARs, reload magazines, and move couches perfectly.  A little slower to dry since it's thicker and has some synthetic suede.
Some stats:
Touch-screen enabled index/thumb
Isolated trigger finger material
Dual-joint trigger finger
You can see a lot of it is giving dexterity for the trigger finger and it shows in those knuckle breaks.  It's almost the same as the Delta but with more warmth and protection.  Plus I like having the ability to tighten the wrist strap.
Lastly, it has a nice soft material behind the thumb…again great for your nose or cleaning lenses.
The most expensive on the list but if you shoot a lot or value protection/dexterity…I highly recommend the Alpha gloves.
Side-note: I had a defect with my Alphas where the ring finger on one hand was twisted so a seam was on my finger pad.  Not a deal breaker but annoying.  I emailed SKD and they took care of the problem in less than an hour and two emails.
Honorable Mentions
There's a lot of tactical shooting gloves out there…and I couldn't buy & test them all.  But here are some of my honorable mentions that I've used or know are popular.
Outdoor Research Ironsight ($45): I've worn through these gloves for hiking and they have a bit more protection than the SKD gloves.  Also has grip attachments that eventually wear off.  Haven't had the chance to shoot with them but they were great for hiking.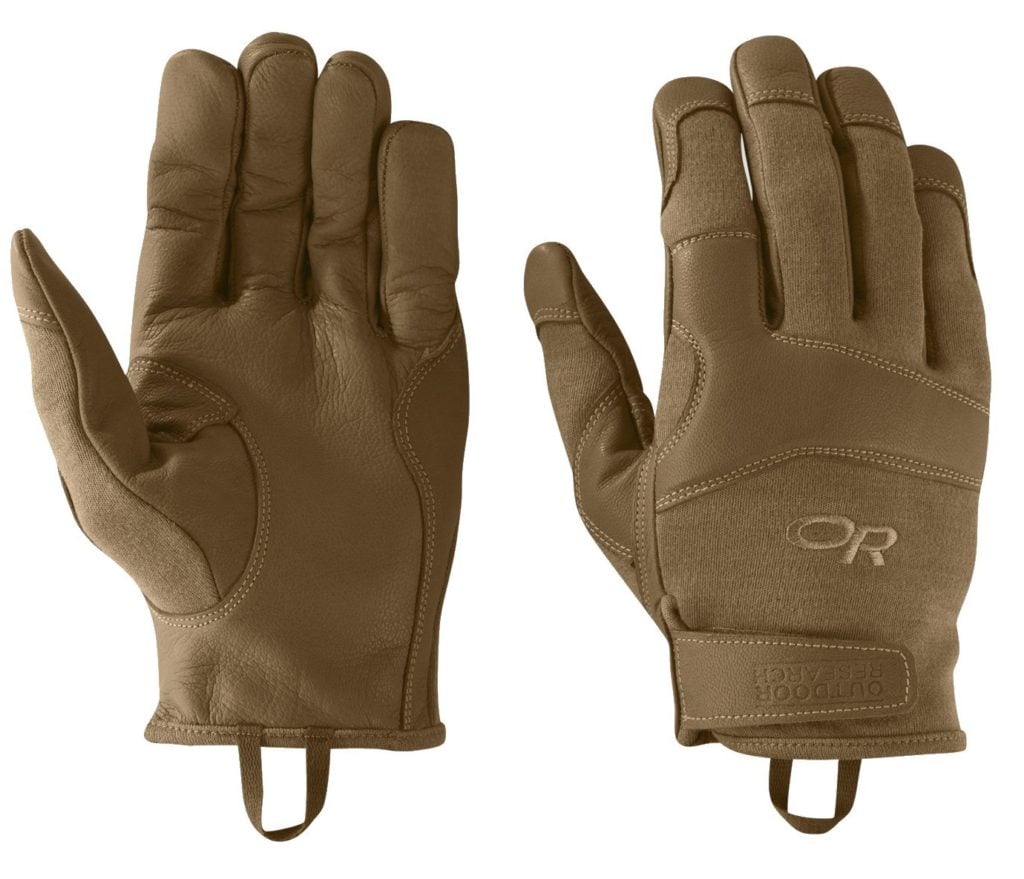 Conclusion
After a good amount of testing…here are my final recommendations.
For the best overall glove…
If you want the glove with the most dexterity:
And if you want the most affordable but still very capable:
How'd I do…any I miss that I should test out next?  Let me know if the comments below.  And be sure to see more of our favorite gear in Editor's Picks.
The post Best Shooting Gloves [2018 Hands-On Test] appeared first on Pew Pew Tactical.