TCR 22 – Speed Shooting the Miculek Way
Jerry Miculek is busy pouncing 22LR lead and wearing the paint off some steel targets with the new Thompson Center T/CR22 rifle. Whats is remarkable is when he goes at it again he takes it up another notch in speed. (lightning finger)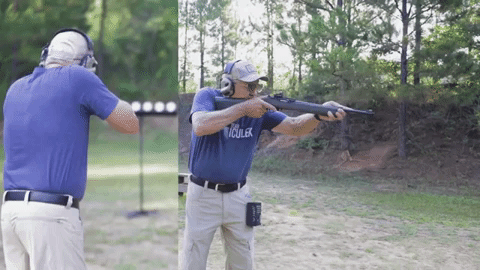 The T/CR22 delivers exceptional out-of-the-box performance through a feature set that appeals to both recreational shooters and hunters.
The T/CR22 includes a green fiber optic front sight and adjustable rear peep sight for quick target acquisition, while the built-in picatinny-style rail allows for the mounting of an optic for precision shooting at longer ranges.
Also comes with a standard lightweight Magpul co-branded composite stock, oversized bolt handle and a reportedly crisp trigger pull– Jerry certainly doesn't seem to have a problem with it.
If you are curious about the record he refers to.
Jerry succeeded in engaging three different targets at 15 feet, shooting each multiple times center mass in a grand total of 1.59 seconds. Super bad ass! Take a look.